Manassas's why wait for a quote when you can get an accurate in 60 seconds ?
Reguest Your First Estimate
Get Your Customized Clean
Our team will work with you to create a unique cleaning schedule that fits your busy life.
Enjoy having both a clean home and time to focus on the important things.
What do professional house cleaners do?
Our Professional Cleaners will clean your home from top to bottom.
Leaving your home spotless and ready for you and your family to relax in.
We take extra care making sure all areas of your home are throughly cleaned and nothing is missed. Yor satisfaction is guaranteed!
Why Use Professional Cleaners?
Most Companies will hire anyone and send them to clean your home with little to no training. We are different and only hire quality people. Our professional Cleaners are fully trained and pass a rigorous background check.
Plus we are bonded and insured! Hiring Absolute Shine to lean your home gives you peace of mind that your home and belongings are in good, safe and reliable hands.
We use environmentally friendly BETTER LIFE cleaning solutions for your well being and family's safety and is also pet-friendly.Bona cleaner and Daycon Green Seal Certified products. We carry all the cleaning equipment required. We use Pro-Team vacuums with Hepa filter that are recognized by the American Lung Association to improve indoor air quality.
Deep Cleaning House
Recurring Services
Move Out Cleaning Services
In your home there are two important areas that should be correctly disinfected and cleaned often: kitchen and bathrooms deep cleaning. we can deep clean your kitchen and bathrooms. To help maintain a healthy home.
Your Happiness Is Guaranteed
Contact us with 24 hours after the home was cleaned. And let us know what needs to be addressed and we'll come back and make thing right for free! Our booking and cleaning process is one of the most complete and efficient in Virginia.
Miguel H.
The owner is extremely efficient. After posting a request on the this site for one time move out cleaning my phone rang with a helpful voice on the other line wanting to work me in this week – a very busy week leading up to Christmas. The team showed up promptly at the appointed time and took care to remove their shoes or wear protective booties.
Kristina M.
I love these ladies. They were initially taking care of the basement of our 3 level townhouse as that is where my father resided until he passed away. After his passing, the ladies at Absolute Shine made me an offer to clean my entire house at a great price and they have been doing a magnificent job of cleaning the house every two weeks for about 9 months.
Kathryn Dailey
The ladies worked very hard and did a wonderful job. I'm going to use them to clean for me monthly. I love that they donate a portion of their profits to Breast Cancer charities and donate some of their time cleaning homes of those ladies affected by the disease. They truly make a difference. Very impressed and happy with it.
Julie Zick
Online booking was excellent, easy to do, gave me a firm estimate for my size house and I was able to setup automated alerts to email/text me reminder about my cleaning services. Sonia quickly responded to my questions I submitted online. The friendly ream showed up on time and quickly went to work; they cleaned my 5-bedroom house in about 2 hours. Then they made sure I was happy with their work when the job was done. I was able to pay with my credit card on their secure website. My credit card was not charged until they were done. With the reoccurring cleanings discount t he price is fair and the outstanding professionalism, communication, courteousness and organization of this company put them over the Top.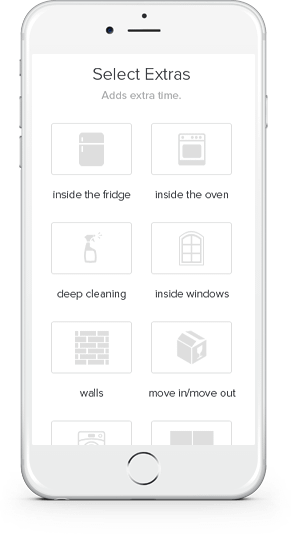 We're mobile friendly. Book just as easily from your mobile phone as you can on your computer.